Endotype-driven treatment in chronic upper airway diseases
Clinical and Translational Allergy
2017
7:22
Received: 11 May 2017
Accepted: 5 June 2017
Published: 12 July 2017
Abstract
Rhinitis and rhinosinusitis are the two major clinical entities of chronic upper airway disease. Chronic rhinosinusitis (CRS) and allergic rhinitis (AR) affect respectively up to 10 and 30% of the total population, hence being associated with an important socio-economic burden. Different phenotypes of rhinitis and CRS have been described based on symptom severity and duration, atopy status, level of control, comorbidities and presence or absence of nasal polyps in CRS. The underlying pathophysiological mechanisms are diverse, with different, and sometimes overlapping, endotypes being recognized. Type 2 inflammation is well characterized in both AR and CRS with nasal polyps (CRSwNP), whereas type 1 inflammation is found in infectious rhinitis and CRS without nasal polyps (CRSsNP). The neurogenic endotype has been demonstrated in some forms of non-allergic rhinitis. Epithelial barrier dysfunction is shown in AR and CRSwNP. Emerging therapies are targeting one specific pathophysiological pathway or endotype. This endotype-driven treatment approach requires careful selection of the patient population who might benefit from a specific treatment. Personalized medicine is addressing the issue of providing targeted treatment for the right patient and should be seen as one aspect of the promising trend towards precision medicine. This review provides a comprehensive overview of the current state of endotypes, biomarkers and targeted treatments in chronic inflammatory conditions of the nose and paranasal sinuses.
Keywords
RhinitisChronic rhinosinusitisPhenotypeBiomarkerBiologicalsPrecision medicinePersonalised medicine
Background
Persistent rhinitis and chronic rhinosinusitis (CRS) are the two major clinical entities of chronic upper airway disease. Worldwide questionnaire-based surveys show that allergic rhinitis affects up to 30% of the global population, whereas CRS is present in over 10% of the European population [1, 2]. Upper airway diseases are often associated with comorbidities such as asthma or COPD [3, 4]. The upper and lower airways cannot be separated from each other and immune modulating drugs, such as allergen immunotherapy and biologicals, affect both airway compartments.
Uncontrolled disease has been reported in 35–40% of patients with chronic upper airway disease and has a substantial impact on the patient's social, physical and economic health. The reasons for an uncontrolled disease are related to disorder-, diagnosis-, treatment- or patient-associated factors. The relative importance of these factors is unclear, specialists agree that optimal disease management approaches are needed [5–7].
Precision medicine is proposed to address this global issue by providing customized and individualized care based on the unique immunologic, genetic and psychosocial profile of the patient [8]. The concept of precision medicine is based on four pillars: personalized care with tailored diagnostic and therapeutic approaches, prediction of disease progression and success of treatment, prevention of disease and participation of the patient to achieve good adherence and optimal efficacy of the given treatment.
To fully implement precision medicine into daily practice, disease management based on disease control and phenotyping needs to be complemented with disease endotyping. For decades, to determine the best-fit treatment, a phenotype is being assigned to the patient based on clinical symptoms, atopy status and the presence of nasal polyps (for CRS patients). This approach is generally carried out almost entirely regardless of the underlying pathophysiological mechanisms. In complex diseases with mixed pathophysiologies, a phenotype-driven treatment is not always sufficient to obtain optimal control. Endotype classification based on thorough investigation of the underlying pathophysiological mechanisms is therefore gaining more interest. Endotyping will provide more insight in the inter-individual variability of clinical presentation and treatment response in patients with identical phenotypes. In addition, endotyping might in the future guide the decision making process of targeted treatments [9]. In order to make endotype-driven treatment a clinical applicable approach in daily practice, identification of measurable biological indicators, or so called "biomarkers", is needed [10]. The ideal biomarker serves as a signature of a well-defined endotype and is easily measurable, reproducible and affordable [11].
Currently we are in the era of extensive research towards identification of biomarkers and endotype-driven treatments. Research on endotyping is also performed for asthma and cancer and is well ahead of endotyping in upper airway diseases. The aim of the current review is to provide a comprehensive overview of the current state of endotypes, biomarkers and biological treatment in rhinitis and CRS. Since biomarkers can be used for many applications, only those that are (potentially) of valuable for the diagnosis or prediction of treatment response will be reviewed. Subsequently, current or potential treatment strategies targeting specific endotypes will be discussed.
Endotypes and biomarkers in upper airway diseases
Rhinitis is characterized by inflammation of the nasal mucosa causing nasal obstruction, rhinorrhoea, sneezing and pruritus [12]. Three main phenotypes of rhinitis are described: allergic rhinitis (AR), infectious rhinitis and non-allergic non-infectious rhinitis (NAR). The latter phenotype can be subdivided in many subphenotypes such as idiopathic rhinitis (IR), hormonal rhinitis, gustatory rhinitis, drug-induced rhinitis, rhinitis of the elderly, atrophic rhinitis and occupational rhinitis [13]. In CRS the mucosal inflammation affects the nose and paranasal sinuses and is characterized by nasal obstruction and discharge, loss of smell and/or facial pain, which lasts longer than 12 weeks [14]. Traditionally a phenotype is addressed to the patient according to the presence (CRSwNP) or absence (CRSsNP) of nasal polyps on nasal endoscopy or radiological imaging.
A specific phenotype can be indicative for the presence of one particular endotype. However, one or mixed endotype(s) can also underlie different phenotypes in upper airway diseases, hence making clear distinction of endotypes more complex. Since the underlying pathophysiological events of both rhinitis and CRS are located at the upper airway mucosal lining, they share common endotypes (Fig.
1
).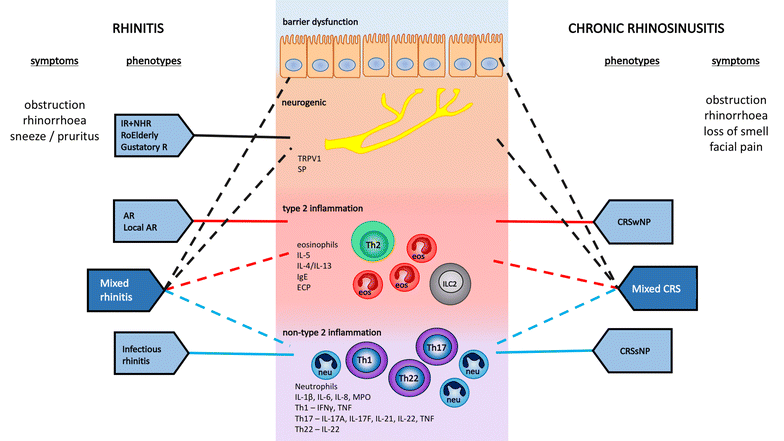 Treatment of chronic upper airway disease
Therapies targeting type 2 inflammation
Therapies targeting non-type 2 inflammation
Development of novel therapies targeting non-type 2 inflammation seems more challenging compared with type 2 inflammation. Different biologicals have been investigated but these showed only little or no improvement in clinically relevant asthma outcome parameters.
CXC chemokine 2 receptor (CXCR2) antagonists (e.g. AZD5069, SCH527123) target the CXCR2 receptors on neutrophils and prevent their activation through the chemokine IL-8. Their efficacy has been investigated in the treatment of severe asthma, in which no clinical improvement was seen, despite reduction of neutrophils in sputum and blood [107, 108].
Brodalumab is a human anti-IL17A mAb designed to target IL-17A, a cytokine that is associated with neutrophilic inflammation and corticosteroid resistance. A trial of brodalumab in patients with uncontrolled moderate to severe asthma, without being selected for neutrophilic inflammation, reported no improvement of symptoms or lung function [109].
So far, no trials evaluating targeted treatments of non-type 2 inflammation have been conducted in rhinitis or CRS. The relative poor evolution in the development of biologicals targeting non-type 2 inflammation indicates that the non-type 2 inflammation needs further research to identify distinct subendotypes.
Therapies targeting neurogenic activation
Targeting TRPV1 pathway
Capsaicin, the pungent substance in red pepper responsible for a burning sensation, has been proven to be effective in reducing NHR symptoms in IR [57, 110]. Capsaicin activates the TRPV1 channel which leads to influx of Ca2+ resulting in neuronal excitation and release of neuropeptides, followed by a long-lasting refractory period, during which the neurons are not responsive anymore to a broad range of stimuli. Its therapeutic effect is thought to be due to the above-mentioned de-functionalization and/or degeneration of C-fibers by massive Ca2+ influx [57]. Significant and long-term reduction (up to 9 months after treatment cessation) of NHR symptoms have been reported [111].
To optimize the treatment with capsaicin a study was performed comparing two regimens: application of five doses of capsaicin on one single day versus one dose of capsaicin every 2 days for 2 weeks. Both regimens seemed to be equally effective, but the former scheme is preferred as it is thought to enhance patient compliance [110].
An alternative therapeutic option is targeting the TRPV1 ion-channel with the selective TRPV1 antagonist SB-705498. Reduction of NHR symptoms due to intranasal application of SB-705498 has been documented [112] So far, no head-to-head trial has been performed comparing capsaicin and SB-705498.
Therapies targeting epithelial barrier dysfunction
Restoring epithelial barrier function might reduce excessive penetration of allergens and/or harmful particles into the submucosal space, ultimately impeding continuous activation of the immune system and subsequent symptoms. Interfering with Toll like receptor or epidermal growth factor receptor signaling has been demonstrated to have barrier modulating capacity in different in vitro and murine studies (reviewed in Steelant et al.) [113]. Whether these treatments might also lead to clinical improvement of symptoms needs to be investigated.
Recent findings suggest that the therapeutic effect of locally applied corticosteroids might also result from their ability to enhance barrier integrity [62]. Since decades, corticosteroids are part of the standard treatment of the upper and lower airway diseases because of their anti-inflammatory properties [114, 115]. It was recently demonstrated that corticosteroids upregulate tight junction expression and thereby restore barrier function both in primary epithelial cell cultures and in a model of house dust mite (HDM)-induced allergic airway inflammation [62]. In addition, HDM AR patients taking inhaled steroids showed reduced epithelial permeability compared to steroid-naive patients [62].
Current challenges in endotype-driven treatments
The recently gained insight into different pathophysiological mechanisms of rhinitis and CRS has been the driving force for the development of targeted therapies for patients with chronic upper airway disease. This evolution instigates the development of strategies to identify those patients who are most likely to benefit from these therapies. This so called endotype-driven treatment is one of the 4 pillars of precision medicine. Implementation of the principles of precision medicine into the management of airway diseases is a major challenge for the next decade [116].
Disease heterogeneity needs to be further explored and will lead to the discovery of new biomarkers that serve as a unique signature for a particular endotype. So far, important progresses have been made in identifying endotypes, of which type 2 inflammation is well ahead of other endotypes. Non-type 2 inflammation, the neurogenic endotype and barrier dysfunction needs further untangling and exploration.
So far, only a limited number of biomarkers are ready for use in clinical practice, such as blood eosinophils or serum specific and total IgE. Biomarkers should be pathway-specific, easy to measure, reproducible and affordable. The analysis of mediators in nasal secretions for endotyping is promising but requires further investigation. The biomarkers discussed in this article are mostly used in a research setting and represent potential biomarkers that need to be qualified and validated. An ideal strategy to reach biomarker identification, qualification and validation is through large-scale multi-center studies implying cooperation and standardization of laboratories and databanks all over the world. That way all efforts made towards precision medicine will be recognized more efficiently for implementation.
Besides ameliorating treatment approaches for the individual patients, precision medicine is thought to help in resolving the socio-economic burden of upper airway diseases [116]. It is believed that the reduction of the socio-economic burden due to endotype-driven treatment will outweigh the investments made in research of endotypes and development of novel treatment agents. Whilst the economic aspect is a motive for development of endotype-driven treatments, it is the main challenge at the same time. Considerable investments are required to conduct research on endotypes, biomarkers and biologicals. Raising political awareness about the allergy epidemics and its socio-economics costs is desired and will facilitate implementation in clinical practice. Because of the high cost associated with biological treatment, these molecules will in first place be retained for patients with severe and uncontrolled disease.
Three crucial prerequisites are identified to drive the next step in endotype-driven therapy:
the demonstration of the predictive value of biomarkers in rhinitis and CRS, guiding the clinician in applying precision medicine in practise

the recognition and better understanding of the contribution of one or more immunologic pathways or endotypes to the disease phenotype

the demonstration of targeted treatment having superiority in clinically relevant outcomes and inferiority in cost over existing treatment options.
Conclusion
This review provides an overview of the efforts made towards endotype-driven treatments in upper airway diseases. Current knowledge about type 2 inflammation is well ahead of other endotypes. Type 2 targeted treatments with monoclonal antibodies against IgE, IL5 and IL4Rα have been proven to be effective in chronic upper airway diseases supporting the importance of this endotype. Neurogenic inflammation as causative mechanism for nasal hyperreactivity is also well established and treatment with capsaicin is proven to be effective in IR with hyperreactivity. Barrier dysfunction and non-type 2 inflammation still need to be investigated more extensively to support its importance in upper airway diseases. Endotype-driven treatment still needs to face multiple challenges before its implementation in daily practice.
Declarations
Authors' contributions
GDG, PWH, SFS conceived and designed the entire manuscript; wrote the manuscript: GDG, SFS; critically reviewed and revised the manuscript: PWH, WJF, BP, BS. All authors read and approved the final manuscript.
Acknowledgements
Not applicable.
Competing interests
The authors declare that they have no competing interests.
Funding
PWH is recipient of a senior clinical investigator grant from the Research Foundation - Flanders (FWO), Belgium. The author's laboratory is supported by the Interuniversity Attraction Pole (IUAP, P7/30), Belgium.
Publisher's Note
Springer Nature remains neutral with regard to jurisdictional claims in published maps and institutional affiliations.
Open AccessThis article is distributed under the terms of the Creative Commons Attribution 4.0 International License (http://creativecommons.org/licenses/by/4.0/), which permits unrestricted use, distribution, and reproduction in any medium, provided you give appropriate credit to the original author(s) and the source, provide a link to the Creative Commons license, and indicate if changes were made. The Creative Commons Public Domain Dedication waiver (http://creativecommons.org/publicdomain/zero/1.0/) applies to the data made available in this article, unless otherwise stated.
Authors' Affiliations
(1)
Department of Otorhinolaryngology-Head and Neck Surgery, UZ Leuven, Louvain, Belgium
(2)
Department of Otorhinolaryngology, Academic Medical Center, Amsterdam, The Netherlands
(3)
Upper Airways Research Laboratory, Department of Otorhinolaryngology-Head and Neck Surgery, Ghent University, Ghent, Belgium
(4)
Laboratory of Clinical Immunology, Department of Immunology and Microbiology, KU Leuven, Louvain, Belgium