Multi-morbidities of allergic rhinitis in adults: European Academy of Allergy and Clinical Immunology Task Force Report
Clinical and Translational Allergy
2017
7:17
Received: 1 February 2017
Accepted: 12 May 2017
Published: 1 June 2017
Abstract
This report has been prepared by the European Academy of Allergy and Clinical Immunology Task Force on Allergic Rhinitis (AR) comorbidities. The aim of this multidisciplinary European consensus document is to highlight the role of multimorbidities in the definition, classification, mechanisms, recommendations for diagnosis and treatment of AR, and to define the needs in this neglected area by a literature review. AR is a systemic allergic disease and is generally associated with numerous multi-morbid disorders, including asthma, eczema, food allergies, eosinophilic oesophagitis (EoE), conjunctivitis, chronic middle ear effusions, rhinosinusitis, adenoid hypertrophy, olfaction disorders, obstructive sleep apnea, disordered sleep and consequent behavioural and educational effects. This report provides up-to-date usable information to: (1) improve the knowledge and skills of allergists, so as to ultimately improve the overall quality of patient care; (2) to increase interest in this area; and (3) to present a unique contribution to the field of upper inflammatory disease.
Keywords
Adenoid hypertrophy
Allergic rhinitis (AR)
Asthma
Chronic middle ear effusions
Comorbidities
Disordered sleep
Eczema
Eosinophilic oesophagitis (EoE)
Conjunctivitis
Food allergies
Obstructive sleep apnea
Olfaction disorders
Rhinitis
Rhinosinusitis
Introduction
This report was prepared by the European Academy of Allergy and Clinical Immunology (EAACI) Task Force on "Allergic Rhinitis (AR) comorbidities". This was initiated, based on the rationale that AR is rarely found in isolation and needs to be considered in the context of systemic allergic disease associated with numerous comorbid disorders including asthma, chronic middle ear effusions, sinusitis, lymphoid hypertrophy with obstructive sleep apnea, disordered sleep, and consequent behavioural and educational effects.
AR, which has increased in prevalence over several decades, now affects 10–30% of the population, with the greatest frequency found in children and adolescents [1]. It typically presents after the second year of life but the exact prevalence in early life is unknown. Since children's immune systems develop between the first and fourth years of life, those with an atopic predisposition begin to express allergic disease with a clear Th2 response to allergen exposure, resulting in symptoms, often beginning with atopic dermatitis (AD) and progressing to asthma and rhinitis (the allergic march) [1]. However after early childhood, AR is usually the initial manifestation of allergy [2].
AR is associated with numerous multi-morbid disorders. Those occurring in children have already been discussed in the EAACI Task Force on Paediatric Rhinitis [3]. This paper, by contrast, concerns itself largely with adult AR multimorbidities, but includes relevant paediatric data.
Definition
Multimorbidity is the presence of one or more additional disorders (or diseases) co-occurring with a primary disease or disorder; or the effect of such additional disorders or diseases [4]. When the primary organ is not known, the term multimorbidity should be used instead of co-morbidity. In allergic diseases, the term should be multimorbidity.
Multi-morbidities of allergic rhinitis
AR is an organ-specific manifestation of allergic disease. As such, it coexists with other organ-specific disorders that have a common allergic basis. It is therefore rarely found in isolation but frequently has associated multi-morbid disorders [5].
These can be subdivided into:
(a)

Disorders which are part of the spectrum of allergic diseases, e.g. asthma, AD, food allergy, anaphylaxis;

(b)

Disorders anatomically related to the nose: conjunctivitis, sinusitis, middle ear problems, throat and laryngeal effects;

(c)

Sleep problems and secondary effects on concentration and behaviour; and

(d)
Although more common in paediatric practice, the occurrence of multi-morbidities in adults is significant and has important implications for quality of life, and work attendance and performance. It is likely that those with severe chronic upper airways disease (SCUAD) suffer more severe co-morbid effects.
Diagnosis
Diagnosis of multi-morbidities of AR are shown in Table
2
[
3
].
Table 2
Diagnosis of multi-morbidities associated with allergic rhinitis (AR)
Multi-morbidities of AR

Definitive medical history, symptoms and signs

Asthma

Ask about any history of cough, wheeze, shortness of breath, exercise-induced bronchospasm

Examine the chest for wheeze, hyperexpansion

Assess peak expiratory flows and spirometry in older children preferably with reversibility testing with beta-2 agonists

If in doubt, undertake an exercise, mannitol or methacholine challenge test or measure exhaled nitric oxide (FENO)

Conjunctivitis

Ask about a history of red, itchy, watery eyes, eye rubbing

Examine eyes

Rhinosinusitis

Ask about a history of nasal obstruction or discharge (purulent) with or without hyposmia, headache, facial pain or cough

Undertake nasendoscopy in older children

CT scan/sinus X-rays not recommended unless there are complications or failed therapy, unilateral symptoms or severe disease unresponsive to medical therapy

Otitis media with effusion (OME)/impaired hearing

Ask questions related to immune deficiency and/or recurrent infections

Ask about any speech and language delay, increasing volume of TV, shouting, poor concentration, failing performance at school, frustration, irritability

Examine the ears using a pneumatic otoscope if possible, and Weber and Rinne tests

Use tympanoscopy for evaluation of tympanic membrane and middle ear

Undertake tympanometry

Use a whisper test to screen otitis media with effusion and hearing loss

Use audiometry in older children—pure tones, speech

Obstructive sleep apnea and sleep problems

Enquire about any history of disturbed sleep, snoring, apnoea, tiredness, irritability

Assess nasal airway using spatula misting, nasal inspiratory peak flow, visual examination of nostrils and nasendoscopy in older children to view nasal airway and adenoids

Consider sleep study

Atopic dermatitis

Ask about skin symptoms of itching, redness, rash

Food allergy

Ask about symptoms related to food intake

Ask for oral allergy syndrome (OAS): Allergic reaction that occurs upon contact of the mouth and throat with raw fruits or vegetables which may be tolerated when cooked

Eosinophilic oesophagitis

Ask for symptoms related to esophageal dysfunction as solid food dysphagia, chest pain, heartburn and upper abdominal pain

Assess esophageal biopsies

Adenoid hypertrophy

Ask about nasal obstruction, open mouth breathing and snoring

Examine the face

Perform posterior rhinoscopy; nasal and nasopharyngeal rigid/flexible endoscopy

Olfactory dysfunction

Ask for olfactory dysfunction, hyposmia, anosmia

Evaluate nasal airway and smell function tests

Laryngitis, cough and vocal problems

Ask for symptoms including irritation in the throat, the sensation of difficult to shift mucus and cough

Examine throat and larynx, see vocal cords and arytenoids

Gastro esophageal reflux

Ask for symptoms of indigestion, regurgitation, cough

Examine throat and larynx

Fatigue and learning impairment

Ask about fatigue and learning impairment, school success

Ask about sleep quality, nasal obstruction and nasal discharge

Turbinate hypertrophy

Ask about nasal obstruction

Perform anterior rhinoscopy and nasal endoscopy, acoustic rhinometry pre and post decongestant shows whether mucosal lining or bony structure is responsible
A physical examination of all organ systems potentially affected by allergies, with emphasis on the upper respiratory tract, should be performed in patients with a history of rhinitis.
Treatment
During the treatment of AR, multi-morbidities (co-morbidities) of AR should be considered. Treatment of AR according to guidelines may cause decreasing the nasal symptoms; and may cause improvement of the co-morbid problems; see Fig.
1
[
104
].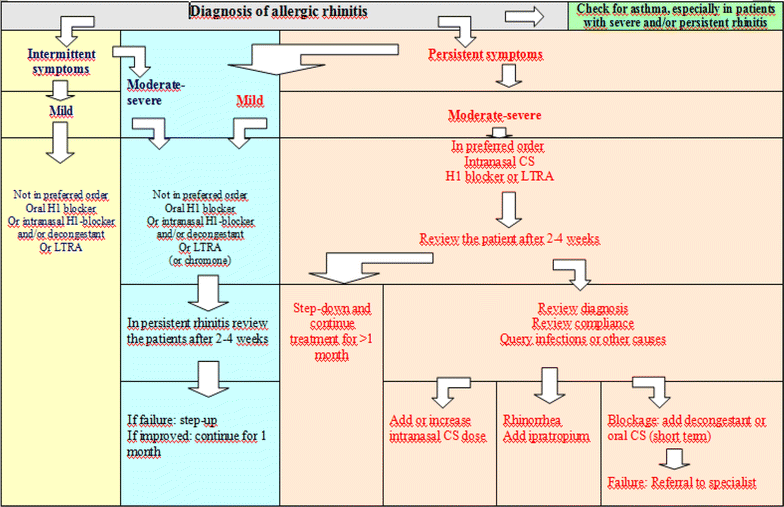 Conclusion
This EAACI Task Force Report on AR Multi-morbidities has defined and classified the multi-morbidities associated with AR, together with providing recommendations for diagnosis and treatment. The information provided here should help improve allergists' knowledge and skills, ultimately improving the overall quality of patient care, as well as helping to raise the profile of this important area of work.
Declarations
Authors' contributions
All authors contributed to design, planning, literature survey and writing.
Competing interests
The authors declare that they have no competing interests.
Availability of data and materials
The datasets used and/or analysed during the current study are available from the corresponding author on reasonable request.
Consent for publication
This paper is EAACI–ENT Section Task force Paper. It was approved by all authors and Executive Committee of EAACI (Excom).
Ethics approval and consent to participate
There is no Ethics approval, because this is a review paper. There is no need to have informed consent.
Publisher's Note
Springer Nature remains neutral with regard to jurisdictional claims in published maps and institutional affiliations.
Open AccessThis article is distributed under the terms of the Creative Commons Attribution 4.0 International License (http://creativecommons.org/licenses/by/4.0/), which permits unrestricted use, distribution, and reproduction in any medium, provided you give appropriate credit to the original author(s) and the source, provide a link to the Creative Commons license, and indicate if changes were made. The Creative Commons Public Domain Dedication waiver (http://creativecommons.org/publicdomain/zero/1.0/) applies to the data made available in this article, unless otherwise stated.
Authors' Affiliations
(1)
Department of Otorhinolaryngology, Eskisehir Osmangazi University School of Medicine, Eskisehir, Turkey
(2)
Upper Airway Research Laboratory, Ghent University Hospital, Ghent, Belgium
(3)
Institute of Medical Statistics, Informatics, and Epidemiology, Medical Faculty, University of Köln, Cologne, Germany
(4)
Allergy Unit, IBIMA, Regional University Hospital of Malaga, UMA, Malaga, Spain
(5)
Clinical division of Otorhinolaryngology, Head and Neck Surgery, University Hospitals Leuven, Louvain, Belgium
(6)
London Allergy and Immunology Centre, London, UK
(7)
ENT Department, Faculty of Medicine, Kirikkale University, Kirikkale, Turkey
(8)
Royal National Throat, Nose and Ear Hospital, London, UK
(9)
Faculty of Medicine, ENT Department, University of Oradea, Oradea, Romania
(10)
Institut de Recherche Expérimentale et Clinique (IREC), Pole de Pneumologie, ORL & Dermatologie, Université catholique de Louvain, Louvain-la-Neuve, Belgium
(11)
Department of Otorhinolaryngology, Head and Neck Surgery, Academic Medical Centre (AMC), Amsterdam, The Netherlands
(12)
Christine Kuhne-Center for Allergy Research and Education, Swiss Institute of Allergy and Asthma Research, University of Zurich, Davos, Switzerland
(13)
Hôpital Arnaud de Villeneuve, University Hospital of Montpellier, Montpellier, France
(14)
Unitat de Rinologia i Clinica de l'Olfacte, Servei d'Otorinolaringologia, Hospital Clínic, Barcelona, Spain
(15)
The Referral Centre for Food Allergy Diagnosis and Treatment Veneto Region, Department of Mother and Child Health, University of Padua, Padua, Italy
(16)
Allergy Department, 2nd Pediatric Clinic, University of Athens, Athens, Greece
(17)
Nippon Medical School, Tokyo, Japan
(18)
Service d'ORL, Cliniques Universitaires St-Luc, Brussels, Belgium
(19)
Department of Otorhinolaryngology-Head and Neck Surgery, Temple University, Philadelphia, USA
(20)
Department of Otorhinolaryngology and Head and Neck Surgery, University Hospital Sestre milosrdnice, Zagreb, Croatia
(21)
Department of Otorhinolaryngology, University Hospital of Crete, Crete, Greece