Cough hypersensitivity as a neuro-immune interaction
Clinical and Translational Allergy
2015
5:24
Received: 9 April 2015
Accepted: 9 June 2015
Published: 15 July 2015
Abstract
Cough is an intrinsic protective reflex. However, chronic cough affects a considerable proportion of general population and has a major impact on quality of life. A recent paradigm shift to 'cough hypersensitivity syndrome' suggests that chronic cough arises from hypersensitivity of the airway sensory nerves. As cough reflex is determined by interaction of the nervous system with immune system, persistent dysregulation of one or both of these systems may lead to chronic cough hypersensitivity. Here we review the current evidence for the neuro-immune interactions that underlie cough hypersensitivity and discuss future therapeutic strategies.
Keywords
CoughHypersensitivityImmuneNeuronInteraction
Introduction
Cough has bi-directional health effects; it is both an essential defence mechanism that protects the airways from harmful inhalation or aspiration [1], and is also one of the most troublesome symptoms for which patients seek medical attention [2]. The epidemiological burden of chronic cough is substantial, affecting approximately 10 % of the general adult population [3]. Furthermore, chronic cough is a significant clinical problem, as it poses significant impairment to quality of life [4, 5] and challenges to clinicians [6]. However, cough treatments remain less than satisfactory [7]; recent internet surveys of 1120 respondents from 29 European countries found that most patients report very limited effectiveness of current cough medication [8].
Cough is also associated with severity in various chronic airway diseases [9]. In subjects with asthma, poor control was associated with concomitant chronic cough [10, 11]. In ECRHS phase I-II follow-up studies, chronic cough/phlegm were strong markers for individuals suffering from moderate/severe asthma [12]. These findings warrant further understanding of cough pathophysiology and its roles in other airway diseases.
Based on current anatomical diagnostic protocols, clinical practice for chronic cough has been successful [13, 14]. However, it has also been realized that a substantial proportion of chronic cough patients (12-42 %) have cough without identifiable cause, termed idiopathic or refractory cough [15]. This gap indicates the necessity for paradigm change. We may need to further elucidate the mechanism of 'cough', as refractoriness may originate from dysregulation in the cough reflex itself. In this regard, a new term, 'cough hypersensitivity syndrome', has been proposed to suggest that chronic cough arises from hypersensitivity of airway sensory nerves [16–19].
Intrinsic nature of chronic cough
As cough is an intrinsically protective reflex, chronic cough could be a protective response against persistent harmful tussigen exposure; however, in the absence of harmful exposure, chronic cough is rather a mal-adaptive response.
In clinical observation, chronic cough patients frequently report that cough is provoked by trivial stimuli such as 'cold air', 'singing/talking' or 'fatigue/stress' [20, 21], which is a hypersensitive cough response to non-tussive stimuli (allotussia) [17]. Another type of hypersensitivity is hypertussia, an increase in cough sensitivity in response to a tussigen [17], which is observed in tussigen inhalation challenge tests [22]. The term 'hypersensitivity' in cough is not a synonym for hypersensitivity in allergy, which is the alteration in immunologic response to innocuous environmental antigens [23]. However, considering both cough reflex and immune response have intrinsically protective roles, it is not surprising that chronic cough and allergies frequently overlap, such as in eosinophilic bronchitis, asthma or rhinitis.
Cough reflex is primarily a neuronal response but regulated by interaction with immune system, as both the neuronal and immune systems coordinate to protect the host from exogenous dangers [
24
]. We suppose that chronic cough hypersensitivity results from persistent dysregulation of either or both systems (Fig.
1
). Here we briefly review current evidence for and possible neuro-immune interactions underlying cough hypersensitivity, as well as future therapeutic strategies.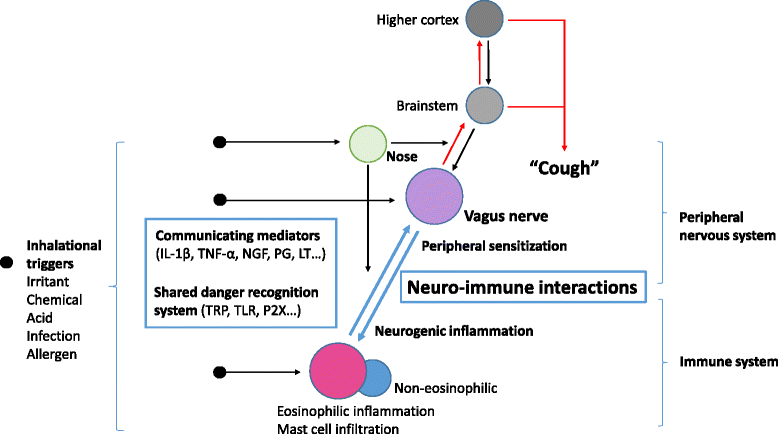 Conclusions
Anatomic diagnostic protocol was the first breakthrough in practice of chronic cough. A recent paradigm shift into 'cough hypersensitivity' as an intrinsic mechanism for chronic cough provides new opportunities to discover the next breakthrough. As reviewed here, the nervous system is fundamental in regulating the cough reflex, and activation of sensory neurons can lead to acute immune activation, and if repeated, may lead to a chronic neuronal hypersensitive state. In turn, activation of the immune system can strongly sensitize the nervous system leading to cough hypersensitivity; roles of eosinophils and mast cells have been suggested. Further potential interactions between the two systems may reside in shared danger recognition systems. We expect further elucidation of neuro-immune interactions to lead to new therapeutic strategies for chronic cough.
Declarations
Acknowledgements
We sincerely appreciate Professor Sang-Heon Cho (Seoul National University College of Medicine, Korea) for all the support and advice on the research of allergy and cough.
We also appreciate Associate Professor Jana Plevkova (Jessenius Faculty of Medicine in Martin, Comenius University, Slovakia) for the insightful discussion over nasal determinant of cough reflex.
Finally, we sincerely appreciate Professor Alyn Morice (University of Hull, Hull York Medical School, UK) for his every help and advice on the concept of cough hypersensitivity and the development of ideas.
Authors' Affiliations
(1)
Department of Internal Medicine, Seoul National University College of Medicine, Seoul, South Korea
(2)
Institute of Allergy and Clinical Immunology, Seoul National University Medical Research Center, Seoul, South Korea
(3)
Department of Internal Medicine, Seoul National University Bundang Hospital, Seongnam, South Korea
Copyright
© Song and Chang. 2015
This is an Open Access article distributed under the terms of the Creative Commons Attribution License (http://creativecommons.org/licenses/by/4.0), which permits unrestricted use, distribution, and reproduction in any medium, provided the original work is properly credited. The Creative Commons Public Domain Dedication waiver (http://creativecommons.org/publicdomain/zero/1.0/) applies to the data made available in this article, unless otherwise stated.