Pollen Allergies in Humans and their Dogs, Cats and Horses: Differences and Similarities
Clinical and Translational Allergy
2015
5:15
Received: 21 November 2014
Accepted: 16 March 2015
Published: 7 April 2015
Abstract
Both humans and their most important domestic animals harbor IgE and a similar IgE receptor repertoire and expression pattern. The same cell types are also involved in the triggering or regulation of allergies, such as mast cells, eosinophils or T-regulatory cells. Translational clinical studies in domestic animals could therefore help cure animal allergies and at the same time gather knowledge relevant to human patients. Dogs, cats and horses may spontaneously and to different extents develop immediate type symptoms to pollen allergens. The skin, nasal and bronchial reactions, as well as chronic skin lesions due to pollen are in principle comparable to human patients. Pollen of various species most often causes allergic rhinitis in human patients, whereas in dogs it elicits predominantly eczematous lesions (canine atopic dermatitis), in horses recurrent airway obstruction or hives as well as pruritic dermatitis, and in cats bronchial asthma and so-called cutaneous reactive patterns (eosinophilic granuloma complex, head and neck pruritus, symmetric self-induced alopecia). In human allergy-specific IgE detection, skin tests or other allergen provocation tests should be completed. In contrast, in animals IgE and dermal tests are regarded as equally important and may even replace each other. However, for practical and economic reasons intradermal tests are most commonly performed in a specialized practice. As in humans, in dogs, cats and horses allergen immunotherapy leads to significant improvement of the clinical symptoms. The collected evidence suggests that canines, felines and equines, with their spontaneous allergies, are attractive model patients for translational studies.
Keywords
Pollen allergyHumanCanine atopic dermatitis (CAD)DogFelineCatEquineHorseAllergy diagnosisAllergen immunotherapy
Introduction
Human pollen allergy
It is of great interest to compare the sensitization to pollen allergens and subsequent clinical manifestations between human patients and their domestic animals, such as dogs, cats and horses [
1
]. Generally, the sensitization to pollen allergens is high in Europe and ranges up to almost 70% in allergic human subjects [
2
]. For standard diagnosis the skin prick test (SPT) is an important cornerstone. In SPT an allergen is brought into the skin only epicutaneously, and a wheal and flare diameter above the positive control, or at 3 mm diameter, are counted as positive. The atopy patch test is a possible alternative [
3
]. Depending on the geographical exposure, accross Europe a panel of 18 allergens is needed for diagnosis, and there are efforts to standardize the panel of allergens used for diagnosis [
4
]. The diagnosis in human allergic patients is therefore based on history, skin test and determination of allergen-specific IgE, completed by nasal conjunctival, or pulmonary function tests (Figure
1
). Whereas the overwhelming number of tests are still performed with allergen extracts, component-resolved allergy diagnosis is becoming increasingly routine for allergic human (but not animal) patients through single molecule CAP testing or the use of the ImmunoCAP ISAC112 microarray [
5
], where 28 of the 112 spotted molecules represent pollen allergen molecules.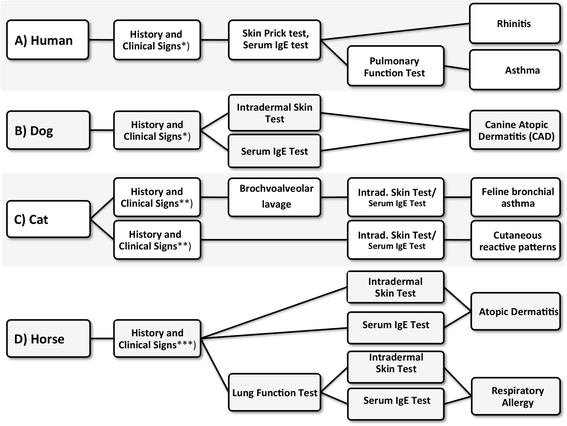 In human patients rhinitis is the most prominent manifestation of pollen allergy, often in connection to conjunctivitis. Pollen allergies are associated with an oral allergy syndrome in 23% of cases [6]. More importantly, according to the "united airways" principle there is a significant correlation of allergic rhinitis with asthma, prompting the ARIA (Allergic Rhinitis and its Impact on Asthma) –initiative by the World Allergy Organization [7]. In human allergies pollen, in addition to house dust mites, animal dander and mold, play a dominant role. Pollen allergy has a more significant effect on the quality of life in patients than allergy to house dust mites, even up to several years after exposure [8], becoming worse when rhinitis is combined with asthma [9]. Pollen allergy can be effectively treated by allergen immunotherapy, thereby enhancing the quality of life [10].
Conclusions
Pollen allergens in human allergic patients are mainly responsible for rhinitis and asthma, whereas in canines they predominantly cause canine atopic dermatitis, in cats rhinitis, asthma and dermatitis, and in horses recurrent urticaria, pruritic dermatitis and recurrent airway obstruction (in the latter species not called asthma). Generally, allergenic pollens that cause human disease are relevant for our domestic animals, at least for dogs (Table 2). The human and veterinary diagnosis differs slightly depending on the species, but clinical pictures are similar (Figures 1 and 2). Several breeds are at a significantly higher risk of developing allergic diseases (Table 1, Figure 3). IgE testing with extracts or molecules represents an indispensable cornerstone in human allergy diagnosis, but has not yet reached the same high fidelity in IgE testing of allergic dogs, cats and horses. This may be due to distinct pathomechanisms or a lack of optimized diagnostic tools. Therefore, in animals intradermal tests rather than epidermal prick tests are important tools for allergy diagnosis. In animals, but not in human allergic patients, the IgE test and intradermal test are regarded equal and may replace each other [73]. Allergen immunotherapy is a reliable instrument to reduce clinical symptoms both in humans and their allergic domestic animals.
Abbreviations
ALD:

Atopic-like dermatitis
ARIA:

Allergic Rhinitis and its Impact on Asthma
CAD:

Canine atopic dermatitis
COPD:

Chronic obstructive pulmonary disease
FAD:

Flea allergy dermatitis
FIAD:

Food induced allergic dermatitis
IDT:

Intradermal skin test
RAO:

Recurrent airway obstruction
SCORFAD:

SCORing feline allergic dermatitis
SIT:

(allergen-) specific immunotherapy
SPT:

Skin prick test
Declarations
Acknowledgements
We thank Ms. Amelia Wein for proofreading. Further, we are much obliged to Mr. Michael Bernkopf for pictures of three dog breeds, and Mrs. Sibylle Gref for providing pictures of Devon cats. Further we would like to thank all those who provided great animal pictures under the public domains and w:de:Creative Commons license on www.pixabay.com and http://commons.wikimedia.org/ which enabled us to compose Figure 3.
This work was supported by grants from the Austrian Science Fund FWF: SFB F4606-B19 and MCCA W1248-B13.
Authors' Affiliations
(1)
Comparative Medicine, Messerli Research Institute of the University of Veterinary Medicine Vienna, Medical University Vienna and University Vienna, c/o Institute of Pathophysiology and Allergy Research, Vienna, Austria
(2)
Dermatology Unit, Clinics of Small Animals and Horses, University of Veterinary Medicine, Vienna, Austria
Copyright
© Jensen-Jarolim et al.; licensee BioMed Central. 2015
This is an Open Access article distributed under the terms of the Creative Commons Attribution License (http://creativecommons.org/licenses/by/4.0), which permits unrestricted use, distribution, and reproduction in any medium, provided the original work is properly credited. The Creative Commons Public Domain Dedication waiver (http://creativecommons.org/publicdomain/zero/1.0/) applies to the data made available in this article, unless otherwise stated.