Allergic sensitization: host-immune factors
Clinical and Translational Allergy
2014
4:12
Received: 24 December 2013
Accepted: 9 March 2014
Published: 15 April 2014
Abstract
Allergic sensitization is the outcome of a complex interplay between the allergen and the host in a given environmental context. The first barrier encountered by an allergen on its way to sensitization is the mucosal epithelial layer. Allergic inflammatory diseases are accompanied by increased permeability of the epithelium, which is more susceptible to environmental triggers. Allergens and co-factors from the environment interact with innate immune receptors, such as Toll-like and protease-activated receptors on epithelial cells, stimulating them to produce cytokines that drive T-helper 2-like adaptive immunity in allergy-prone individuals. In this milieu, the next cells interacting with allergens are the dendritic cells lying just underneath the epithelium: plasmacytoid DCs, two types of conventional DCs (CD11b + and CD11b-), and monocyte-derived DCs. It is now becoming clear that CD11b+, cDCs, and moDCs are the inflammatory DCs that instruct naïve T cells to become Th2 cells. The simple paradigm of non-overlapping stable Th1 and Th2 subsets of T-helper cells is now rapidly being replaced by that of a more complex spectrum of different Th cells that together drive or control different aspects of allergic inflammation and display more plasticity in their cytokine profiles. At present, these include Th9, Th17, Th22, and Treg, in addition to Th1 and Th2. The spectrum of co-stimulatory signals coming from DCs determines which subset-characteristics will dominate. When IL-4 and/or IL-13 play a dominant role, B cells switch to IgE-production, a process that is more effective at young age. IgE-producing plasma cells have been shown to be long-lived, hiding in the bone-marrow or inflammatory tissues where they cannot easily be targeted by therapeutic intervention. Allergic sensitization is a complex interplay between the allergen in its environmental context and the tendency of the host's innate and adaptive immune cells to be skewed towards allergic inflammation. These data and findings were presented at a 2012 international symposium in Prague organized by the Protein Allergenicity Technical Committee of the International Life Sciences Institute's Health and Environmental Sciences Institute.
Keywords
Allergic sensitizationProteinAllergic inflammationFood allergyEndogenous allergen
Introduction
In April 2012, an international symposium titled "Sensitizing Properties of Proteins" was held in Prague, Czech Republic, bringing together over 70 scientists from academia, government, and industry. The purpose of the symposium, organized by the Protein Allergenicity Technical Committee (PATC) of the International Life Sciences Institute's (ILSI) Health and Environmental Sciences Institute (HESI), was to present data on the current state of the science regarding the sensitizing properties of proteins in relation to food allergy [1, 2]. Host-immune factors are the focus of this paper.
Allergic sensitization induced by exogenous allergenic molecules is the result of exposure of organs of the human body to such molecules. In this interplay, intrinsic properties of the exogenous proteins and environmental co-factors certainly play a role, but host-immune factors are of crucial importance to explain why every individual exposed to such an allergen does not develop an allergy. Predisposition for developing allergy is the result of a complex multifactorial interplay of genes and environment. To understand the immunobiological mechanism of sensitization to allergens, their interaction with relevant structural and immune cells during mucosal exposure and entry is of the utmost importance. These cells include cells of the first physical barrier, the epithelial cells; professional antigen-presenting cells, mainly dendritic cells (DCs); and T-helper cells and B cells. Together these cells shape the process of allergic sensitization. An overview is given here about their respective roles in the initiation of allergic inflammation.
Dendritic cells: subtypes and how they are activated
Role of DCs in T-helper cell polarization
Lung DCs control T-helper cell polarization towards a Th1, Th2, or Th17 response, or conversely, prevent harmful immune responses to inhaled antigen via the induction of regulatory T cells.
DCs control immune responses to a variety of inhaled antigens, including allergens and viruses. It has been reported that DC ablation during the sensitization effector phases of the allergic response abolished typical features of asthma, like eosinophilic influx, Th2 cytokine production, or airway hyper-responsiveness (AHR) [17]. However, in response to influenza, DC depletion led to increased virus titres and a reduced number of virus-specific CD8 T cells [18]. These data indicate that although depleting DCs might be beneficial in the treatment for asthma, such strategy would not be safe and might impede host-immune responses to pathogens. Therefore, trying to unravel a specific role for different DC subsets in specific diseases and trying to target such subsets might represent a better alternative.
DC subsets
DCs can be divided into different subsets according to their expression profile and location [
19
]. Until now, four major populations are described in the lung, of which some are originating from different precursors (Figure
1
). The generation of DCs starts in the bone marrow, where macrophage and DC precursors (MDPs) develop into common DC precursors (CDPs). From this end, plasmacytoid DCs (pDCs) separate in their developmental stage from conventional DCs (cDCs), because these CDPs are precursors for pDCs (subset 1) as well as pre-DCs, which develop into cDCs [
20
]. The cDCs in the lung can be further discriminated by their CD11b expression into CD11b
+
(subset2) and CD11b
-
DCs, of which the latter expresses CD103 and langerin (subset3). These and other reports suggest that CD8
+
splenic and CD103
+
DCs in the dermis, lung, gut, and liver are related to each other. Interestingly, it is shown that both CD103
+
dermal DCs and CD8
+
spleen DCs are specialized in antigen cross-presentation, and a similar effect is shown for the CD103
+
subset in the lung [
21
,
22
].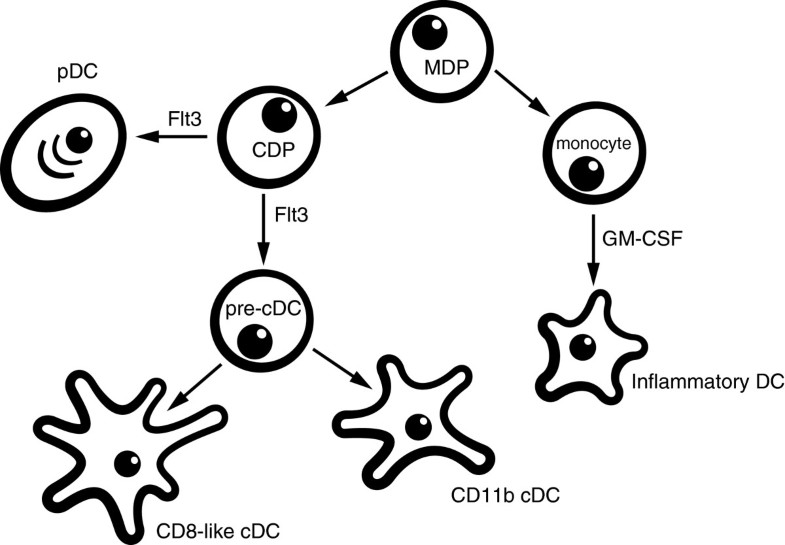 In contrast, under inflammatory conditions, cytokines and chemokines, which attract monocytes, are produced [23]. These monocytes can develop into CD11b+ inflammatory DCs (subset 4). The inflammatory DCs have been shown to express ly6C, a marker remnant from their monocytic descent, but, after differentiation, they start to lose Ly6C expression, and as a consequence cannot be discriminated from the CD11b+ cDCs. Therefore, an additional marker is needed to discriminate the different subsets after recruitment by, for example, house dust mite (HDM). Recently, investigators have reported that, in the lung, these recruited CD11b+ cells also express FcϵR1 [24]. This suggests that expression of the high affinity IgE receptor might be useful to identify monocyte-derived inflammatory DCs (moDCs) in the lungs.
Mouse model to study the role of DC subsets
The exact role of these different DC populations remains unclear. Investigators have previously shown that HDM induces Th2 immunity and allergic asthma through Toll-like receptor (TLR)-4 triggering on epithelial cells. In turn, activated epithelial cells produce several mediators that instruct DCs in the lung to induce Th2 responses [25]. To be able to study lung DC activation in more detail, a transgenic mouse line was developed, which expresses the beta chain of a TCR specific for a peptide of Der p 1 on CD4 T cells. This tool allows the dissection of the specific contribution of each lung DC population to HDM-induced allergic airway sensitization. To test the role of the cDCs and moDCs in Th2 sensitization, these cells were sorted from the mediastinal lymph node (MLN) of HDM-sensitized mice. These cells were adoptively transferred intratracheally into recipients, which were challenged with HDM allergens a week later. Strikingly, the adoptive transfer of only a few CD11b+ cDCs or moDCs was able to induce Th2 sensitization to HDM, as assessed by an eosinophilic influx to the lung, and the Th2 cytokine profile in the supernatant of re-stimulated MLN cells. Surprisingly, the transfer of CD103+ cDCs failed to induce any features of allergic airway inflammation [26]. These results suggest that CD11b+ DCs (cDC or moDC) can induce HDM-induced Th2-associated allergic airway inflammation. Why CD103+ cDCs fail to induce Th2 responses in the lung is unclear, but these cells might have more immunoregulatory properties. Altogether, the data suggest that trying to interfere with the functions of CD11b+ DCs might lead to new treatments for allergic asthma.
T-cell subtypes and plasticity: which are relevant in the allergic phenotype?
B-cell isotype switch and differentiation into IgE-producing plasma cells
Long-lived plasma cells
A key event in the pathogenesis of allergy is the production of IgE antibodies. Antibodies are secreted by plasma cells and their precursors, the plasma blasts. For many years, plasma cells have been considered as short-lived end-stage products of B-cell differentiation; however, current studies argue for the presence of long-lived resident plasma cells that are located in survival niches primarily found in the bone marrow and inflamed tissue [51]. Once settled, long-lived plasma cells are difficult to target therapeutically because they are resistant to immunosuppression and irradiation [52, 53]. More knowledge on preventable causes of IgE plasma cell development is therefore required.
Isotype switching
To become an IgE-producing plasma cell, the B cell needs to isotype switch to IgE. This process is induced by two signals provided by a Th2 cell. The first signal is delivered by the cytokines IL-4 or IL-13, which target the Cϵ gene for initiating switch recombination. The second signal is delivered by interaction of the cell surface antigen CD40 with its ligand (CD40L) expressed on activated T cells. Once the IgE-positive B cells are formed, they are able to differentiate into non-dividing, IgE-producing plasma cells. Although some populations of long-lived plasma cells persist in the spleen, most of them return to the bone marrow or invade inflamed tissues, where they survive up to several months or even a lifetime in survival niches as resident, immobile cells [54].
In vitro B-cell model
To study mechanisms controlling the B cell, it is advantageous to have a well-defined in vitro model. A B-cell assay has been developed, which supports the survival and differentiation of naïve B cells to IgE-producing plasma cells [55]. The kinetic expression of a broad panel of B-cell markers, immunoglobulins, and activation factors has been determined over 12 days of stimulation with IL-4 and anti-CD40.
The B-cell model (Figure
3
) was used for investigating the difference in isotype switch and plasma cell differentiation in B cells isolated from adult blood compared to cord blood. IgD-positive B cells were purified from buffycoat or cord blood-isolated peripheral blood mononuclear cells (PBMCs) using mouse anti-human IgD coupled to magnetic beads. B cells were stimulated with IL-4 + anti-CD40. FcγRII/CD32 transfected mouse fibroblasts were used to stabilise the anti-CD40 presentation. After 4 days of stimulation, the early class switch recombination markers activation-induced deaminase (AID) and germline transcripts (GLTs) were measured by real-time PCR and traditional PCR, respectively. After 12 days of stimulation, the plasma cell marker XBP-1 was measured by real-time PCR, and immunoglobulins were measured in supernatants by ELISA. Surface markers were determined at various times by flow cytometry. IgD-positive B cells from healthy nonallergic donors did not spontaneously secrete IgE in the culture supernatants. It was shown that several germline immunoglobulin genes are constitutively transcribed in adult naïve human B-cell populations, and that IL-4 and anti-CD40 antibody enhance the transcription of not only ϵ and γ4 GLT but also γ2 and γ3 with a maximal expression at day 6. This subsequently leads to Ig-production which can be determined on the cell surface from day 6 and in the cultures as IgE, IgG4, and total IgG clearly increasing from day 8 and onwards. AID was used as a marker to identify preswitching B cells, and was found to be highly up-regulated after three days of stimulation. Finally, it was shown that after eight days of stimulation, the B cells develop into plasma cells phenotypically defined as CD138
+
intracellular IgE
+
cells. Cord blood B cells were able to isotype switch to IgE at a comparable level to adult B cells. However, contrary to the adult B cells, cord blood B cells were able to differentiate into CD138
+
intracellular IgE
+
plasma cells to a much higher level. The levels of secreted IgE and IgG4 were found to be comparable to adult B cells [
56
].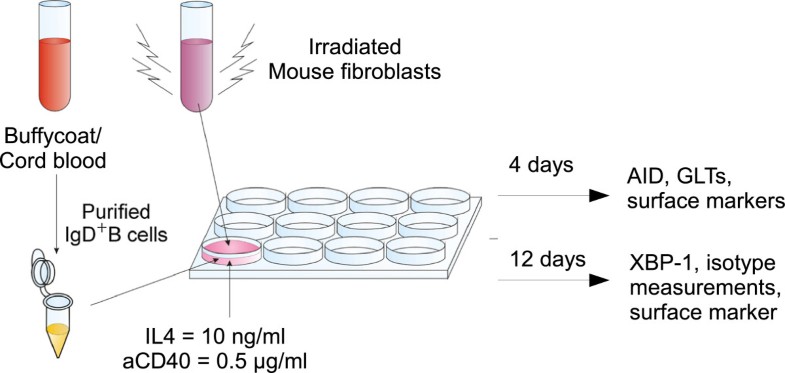 A well-defined B-cell model has been developed, which is capable of producing high levels of IgE allowing investigation of regulators affecting the induction of IgE-producing plasma cells. It has not been tested if the model could produce specific IgE, and this limitation should be kept in mind. The stimulation via CD40 and the IL-4 receptor initiates a programmed sequence of events transforming B cells to IgE and IgG4-producing plasma cells in both cord blood and adult peripheral blood. However, the younger nature of cord blood B cells seems to be more potent in differentiating into IgE-producing plasma cells compared to adult B cells.
Discussion
Allergic sensitization is the outcome of a complex interplay between allergen and host in a given environmental context. Certainly, not every molecule will have the properties to induce sensitization, either lacking the required intrinsic pro-allergenic properties or being presented in the wrong context (e.g., quantity, time of exposure, co-exposures). Here, the authors have highlighted that the process of sensitization is orchestrated by a combination of communicating structural cells and innate and adaptive immune cells. Understanding the immunological and biochemical mechanisms underlying the process of sensitization is of the utmost importance to explain why a certain exposure leads to allergic sensitization. The genetic background and epigenetic make-up of the host shape the way it will respond to contact to a potential allergen, i.e., whether the host will become tolerant, sensitized, and/or allergic. At all subsequent encounters of a potential allergen with different cell subsets during its passage over the mucosal barrier, the (epi)genetic background of the host, in combination with the full spectrum of environmental co-exposures (e.g., infections, pollution) and the timing of exposure, will determine the outcome. Sensitizing properties of proteins can therefore never be seen in isolation.
Declarations
Acknowledgements
The authors gratefully acknowledge the contributions of all speakers and participants for their useful presentations and discussions at the April 2012 Symposium on Sensitizing Properties of Proteins. (Presentations can be viewed at http://www.hesiglobal.org/i4a/pages/index.cfm?pageid=3595.) Appreciation is extended to the HESI Protein Allergenicity Technical Committee (http://www.hesiglobal.org/i4a/pages/index.cfm?pageid=3317) for providing financial resources for the symposium. Publication charges for this article were funded by ILSI Health and Environmental Sciences Institute.
Authors' Affiliations
(1)
Departments of Experimental Immunology and Otorhinolaryngology, Academic Medical Center, University of Amsterdam, Amsterdam, The Netherlands
(2)
Laboratorium for Medicinsk Allergologi, Copenhagen University Hospital at Gentofte, Hellerup, Denmark
(3)
Laboratory of Translational Immunology, University Medical Center Utrecht, Utrecht, Netherlands
(4)
Allergy Clinic, Copenhagen University Hospital at Gentofte, Hellerup, Denmark
(5)
Academic Unit of Clinical and Experimental Sciences, Faculty of Medicine, University of Southampton, Southampton, United Kingdom
Copyright
© van Ree et al.; licensee BioMed Central Ltd. 2014
This article is published under license to BioMed Central Ltd. This is an Open Access article distributed under the terms of the Creative Commons Attribution License (http://creativecommons.org/licenses/by/2.0), which permits unrestricted use, distribution, and reproduction in any medium, provided the original work is properly credited. The Creative Commons Public Domain Dedication waiver (http://creativecommons.org/publicdomain/zero/1.0/) applies to the data made available in this article, unless otherwise stated.