Peptide immunotherapy for childhood allergy - addressing translational challenges
Clinical and Translational Allergy
2011
1:13
Received: 11 August 2011
Accepted: 7 November 2011
Published: 7 November 2011
Abstract
Allergic sensitisation usually begins early in life. The number of allergens a patient is sensitised to can increase over time and the development of additional allergic conditions is increasingly recognised. Targeting allergic disease in childhood is thus likely to be the most efficacious means of reducing the overall burden of allergic disease. Specific immunotherapy involves administering protein allergen to tolerise allergen reactive CD4+ T cells, thought key in driving allergic responses. Yet specific immunotherapy risks allergic reactions including anaphylaxis as a consequence of preformed allergen-specific IgE antibodies binding to the protein, subsequent cross-linking and mast cell degranulation. CD4+ T cells direct their responses to short "immunodominant" peptides within the allergen. Such peptides can be given therapeutically to induce T cell tolerance without facilitating IgE cross-linking. Peptide immunotherapy (PIT) offers attractive treatment potential for allergic disease. However, PIT has not yet been shown to be effective in children. This review discusses the immunological mechanisms implicated in PIT and briefly covers outcomes from adult PIT trials. This provides a context for discussion of the challenges for the application of PIT, both generally and more specifically in relation to children.
Keywords
AllergyChildrenPeptide Immunotherapy
Introduction
Allergic disease including atopic eczema, allergic rhinitis, allergic asthma and food allergy causes significant patient morbidity and economic costs to healthcare systems [1, 2]. Current clinical management primarily relies on allergen avoidance, treating symptoms as they arise (often using medications such as β2 agonist inhalers, antihistamines and adrenaline) and generalised suppression of immune responses (e.g. using corticosteroids). Therapeutic blockade of cytokines such as interleukin-5 (IL-5) and of IgE have had varied clinical results and such approaches are reserved for highly selected patient groups at present [3–5]. Many allergic patients will first experience symptoms during childhood [6] and allergic sensitisation may begin very early in infancy, even prenatally [7, 8]. Children with atopy are at risk of developing new sensitisations and additional allergic conditions as they get older [1, 9]. Identifying atopic children early and modifying disease progression is therefore a hugely attractive therapeutic goal [10].
Evidence suggests a key role for CD4+ T cells, particularly the T helper (Th) 2 subset, in allergy. These cells express the transcription factor GATA-binding protein 3 (GATA-3) and can produce allergy-associated cytokines such as IL-4, IL-5 and IL-13 which are implicated in a host of allergic responses such as eosinophil recruitment and airway hyperreactivity [reviewed in [11]]. Th2 cells also provide B cells with help, driving immunoglobulin class-switching towards allergen-specific IgE [11]. Less commonly, and often in concert with Th2 cells, other helper subsets such as Th1, Th17 and Th9 cells have also been implicated in the pathogenesis of allergic asthma in some patients [reviewed in [12]]. Therapeutic targeting of allergen-reactive CD4+ T cells therefore has the capacity to abrogate downstream allergic responses [11]. One way of doing this is through specific immunotherapy (SIT) which targets CD4+ T cells via the administration of protein allergen. First used over a century ago [13], much of SIT's therapeutic effects have been shown to result from the induction of tolerance of allergen-reactive CD4+ T cells so they no longer mount an allergic response to the allergen. This can occur either through direct effects on allergen-reactive T cells and/or through the actions of T regulatory cells [14]. SIT can significantly improve symptoms in allergic patients [15], therapeutic effects can be long-lasting [16] and SIT for allergic rhinitis may reduce the likelihood of future asthma development [reviewed in [17]]. Yet SIT can also be risky. Pre-existing allergen-specific IgE can bind to multiple sites on protein allergen, leading to IgE cross-linking on mast cells, inducing mast cell degranulation and subsequent allergic reactions, even anaphylaxis [18–20].
Such SIT-associated risks can be overcome by identifying short peptides from within the protein allergen to which the CD4
+
T cell response is directed [
10
]. Such "immunodominant" peptides can bind efficiently to major histocompatibility complex II (MHC II) to induce T cell responses and can therefore be used to generate T cell tolerance, while their short length and lack of tertiary conformational structure do not facilitate IgE cross-linking [
21
]. Such therapeutic application of peptides [hereafter referred to as peptide immunotherapy (PIT)] was first developed in rodent autoimmune disease models [
22
]. However, clinical translation of PIT has been faster for allergy than for autoimmune disease [
10
]. The early manifestation and often progressive nature of allergic disease means that maximising PIT's disease-modifying potential would require targeting allergic children (Figure
1
). However, clinical trials of PIT have so far not included children and the need for scrupulous safety concerning novel paediatric treatments necessitates further understanding of the mechanisms involved in successful PIT.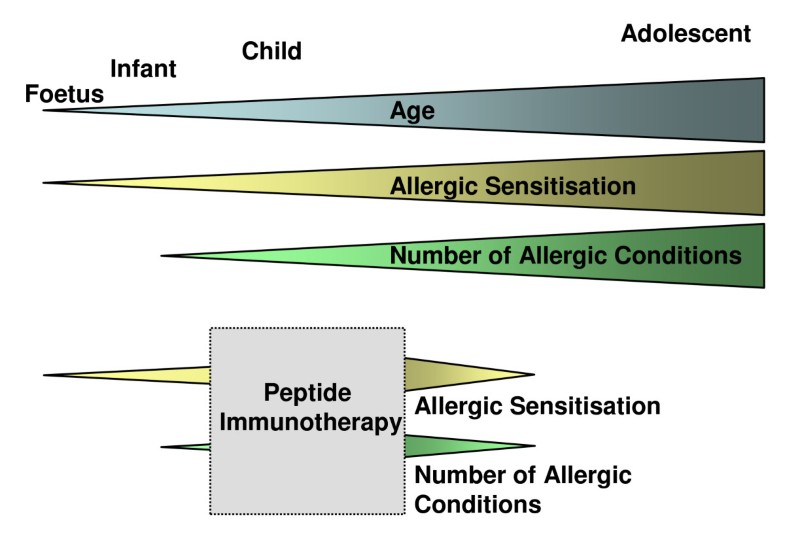 Immunological mechanisms of PIT
PIT harnesses the body's capacity to induce peripheral T cell tolerance. This capacity is paramount to prevent inflammatory responses both to harmless exogenous antigens and to self antigens [23]. Lack of pathogen-associated or inflammation-associated "danger signals" in such circumstances promote a tolerogenic rather than an inflammatory response. Hence, administering a soluble peptide in the absence of danger signals (e.g. in the absence of lipolysaccharide (LPS) and/or an adjuvant) can induce tolerance, whereas administration of the same peptide with an adjuvant promotes an inflammatory/immunogenic response [21]. Soluble peptides administered by intranasal, oral, intravenous, subcutaneous and intradermal routes all have the potential to induce tolerance [24–27].
PIT in adult allergy trials
Since the first clinical PIT trial in adult allergic patients in the 1990s [49] significant advances have been made, but as yet there are no PIT studies involving children. The majority of clinical PIT studies have utilised peptides from the major cat allergen Fel d 1. The outcomes from these trials have been comprehensively reviewed previously [24] and will therefore not be covered in detail here. Briefly, however, initial trials used two 27 amino acid immunodominant Fel d 1 peptides. In those studies, short term improvements in lung function tests and improvements in clinical symptoms were described to a variable extent [49–52]. More recently, there has been a move towards using shorter peptides, typically 15-17 amino acids in length. For Fel d 1, these were administered in the form of multiple, overlapping peptides encompassing the majority of the Fel d 1 protein. This has the advantage of maximising the number of allergen-reactive T cells that may be tolerised since patients may respond to multiple immunodominant peptides and immunodominant peptides may vary between individuals with different HLA types. Using shorter peptides also abrogated the risk of allergen-specific IgE binding which had occasionally been reported in studies using longer peptides [50]. This approach using multiple short, overlapping peptides reduced late-phase skin reactions to cat allergen, reduced proliferation of peripheral blood mononuclear cells (PBMC) to cat allergen and improved symptoms in some patients [53, 54]. In one study, PBMC responses to Fel d 1 peptides not included in the treatment vaccine were also reduced, implying linked-suppression, whereby tolerance induced to one peptide inhibits responses to other peptides within the same protein [35].
PIT also offers a potentially safer approach to allergen-specific immunotherapy for bee venom allergy, where SIT has a high frequency of severe allergic reactions [55]. PIT using peptides from the phospholipase A2 bee venom allergen has led to reduced T cell proliferation to those peptides and altered cytokine profiles e.g. by increasing IL-10, in some studies [36, 56, 57]. PIT has also been found to reduce the severity of allergic responses to deliberate bee stings [56].
PIT can therefore improve clinical outcomes in allergic patients in some instances. Furthermore, although PIT studies have so far focused on aeroallergens or venom allergies, future application of PIT for the treatment of food allergies is also a possibility, particularly given the continued identification of food allergen derived T cell epitopes [58]. It is, however, apparent from clinical studies so far that the effects of PIT can be variable and therapeutic effects are not necessarily seen across all clinical readouts. These inconsistencies are likely due in part to inter-trial variability of factors such as clinical readouts, PIT regimens, nature of disease and whether patients have received immunotherapy previously, which can complicate the assessment of clinical effectiveness.
Conclusions
PIT holds promise for the treatment and modification of allergic disease. There have been significant advances in the application of PIT to adult allergic patients, and there is substantial scope for future opportunities for the application of PIT. Yet to maximise therapeutic efficacy necessitates translation to allergic children. For this, further understanding of the underlying mechanisms involved in PIT, potential confounding factors such as viral infection and the interplay between dose, regimen and route need to be further elucidated. Mechanistic studies utilising experimental models together with carefully structured, appropriately powered clinical trials looking at a host of outcome measures should aid future translation to the paediatric clinic.
List of abbreviations
APL:

altered peptide ligand
GATA-3:

GATA-binding protein 3
HLA:

human leukocyte antigen
LARs:

late asthmatic reactions
LPS:

lipopolysaccharide
MHC:

major histocompatibility complex
PBMC:

peripheral blood mononuclear cells
PIT:

peptide immunotherapy
SIT:

specific immunotherapy
TCR:

T cell receptor.
Authors' Affiliations
(1)
MRC Centre for Inflammation Research, The University of Edinburgh, Edinburgh, UK
(2)
Child Life and Health, The University of Edinburgh, Edinburgh, UK
(3)
Centre for Multiple Sclerosis Research, The University of Edinburgh, Edinburgh, UK
Copyright
© Mackenzie et al; licensee BioMed Central Ltd. 2011
This article is published under license to BioMed Central Ltd. This is an Open Access article distributed under the terms of the Creative Commons Attribution License (http://creativecommons.org/licenses/by/2.0), which permits unrestricted use, distribution, and reproduction in any medium, provided the original work is properly cited.