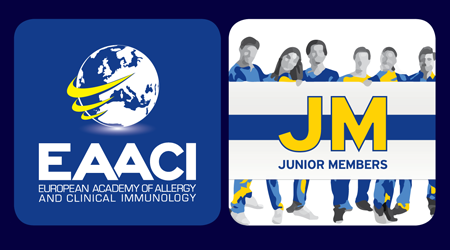 The EAACI Junior Members (JM's) and Clinical and Translational Allergy (CTA) are pleased to be working in conjunction with each other to highlight must-read articles that have been published in the journal recently. These open access articles, highlighted below, aim to further the knowledge of medical residents and other young scientists.
EAACI have provided limited funding to cover 50% of the APC for specially selected research manuscripts submitted by JMs to Clinical and Translational Allergy. For more information, read about the JM-CTA collaboration here or contact us.
Why not sign up and register to receive article alerts from CTA? This will ensure that you are up to date with all of the latest research published in the journal.
Research

Rhinovirus species and tonsillar immune responses

Emilia Mikola, Oscar Palomares, Riitta Turunen, Matti Waris, Lotta E. Ivaska, Antti Silvoniemi, Tuomo Puhakka, Beate Rückert, Tytti Vuorinen, Mübeccel Akdis, Cezmi A. Akdis and Tuomas Jartti

Clinical and Translational Allergy 2019 9:63 (02 December 2019)
Review

Highlights and recent developments in skin allergy and related diseases in EAACI journals (2018)

C. A. Akdis, J. Bousquet, C. E. Grattan, P. A. Eigenmann, K. Hoffmann-Sommergruber, I. Agache and M. Jutel

Clinical and Translational Allergy 2019 9:60 (20 November 2019)
Research

Risk factors for severe systemic sting reactions in wasp (Vespula spp.) and honeybee (Apis mellifera) venom allergic patients

Danielle Fehr, Sara Micaletto, Thomas Moehr and Peter Schmid-Grendelmeier

Clinical and Translational Allergy 2019 9:54 (11 October 2019)
Review

Contraindications to immunotherapy: a global approach

C. Pitsios, M. Tsoumani, M. B. Bilò, G. J. Sturm, P. Rodríguez del Río, R. Gawlik, F. Ruëff, G. Paraskevopoulos, E. Valovirta, O. Pfaar, M. A. Calderón and P. Demoly

Clinical and Translational Allergy 2019 9:45 (11 September 2019)
Research Letter

Characteristics, quality of life and control of respiratory allergic diseases caused by house dust mites (HDMs) in Spain: a cross-sectional study

Beristain Ana, Fernando de la Torre and the EpidMite Study Group

Clinical and Translational Allergy 2019 9:39 (6 August 2019)
Review

Eosinophilic disorders: evaluation of current classification and diagnostic criteria, proposal of a practical diagnostic algorithm

Polliana Mihaela Leru

Clinical and Translational Allergy 2019 9:36 (25 July 2019)
Research

Twelve-year follow-up study after endoscopic sinus surgery in patients with chronic rhinosinusitis with nasal polyposis

Lien Calus, Nicholas Van Bruaene, Cedric Bosteels, Sarah Dejonckheere, Thibaut Van Zele, Gabrielle Holtappels, Claus Bachert and Philippe Gevaert

Clinical and Translational Allergy 2019 9:30 (14 June 2019)
Research

Identification of immunodominant IgE binding epitopes of Der p 24, a major allergen of Dermatophagoides pteronyssinus

Ze-Lang Cai, Jia-Jie Che, Zhen Zhang, Yi-Bo Hou, Yong-shen He, Jin-Lyu Sun and Kunmei Ji

Clinical and Translational Allergy 2019 9:28 (23 May 2019)
Review

Skin microdialysis: methods, applications and future opportunities—an EAACI position paper

Katrine Y. Baumann, Martin K. Church, Geraldine F. Clough, Sven Roy Quist, Martin Schmelz, Per Stahl Skov, Chris D. Anderson, Line Kring Tannert, Ana Maria Giménez-Arnau, Stefan Frischbutter, Jörg Scheffel and Marcus Maurer

Clinical and Translational Allergy 2019 9:24 (10 April 2019)
Review

Guidance to 2018 good practice: ARIA digitally-enabled, integrated, person-centred care for rhinitis and asthma

J. Bousquet, A. Bedbrook, W. Czarlewski, G. L. Onorato, S. Arnavielhe, D. Laune, E. Mathieu-Dupas, J. Fonseca, E. Costa, O. Lourenço, M. Morais-Almeida, A. Todo-Bom, M. Illario, E. Menditto, G. W. Canonica, L. Cecchi, R. Monti, L. Napoli, M. T. Ventura, G. De Feo, W. J. Fokkens, N. H. Chavannes, S. Reitsma, A. A. Cruz, J. da Silva, F. S. Serpa, D. Larenas-Linnemann, J. M. Fuentes Perez, Y. R. Huerta-Villalobos, D. Rivero-Yeverino, E. Rodriguez-Zagal, A. Valiulis, R. Dubakiene, R. Emuzyte, V. Kvedariene, I. Annesi-Maesano, H. Blain, P. Bonniaud, I. Bosse, Y. Dauvilliers, P. Devillier, J. F. Fontaine, J. L. Pépin, N. Pham-Thi, F. Portejoie, R. Picard, N. Roche, C. Rolland, P. Schmidt-Grendelmeier, P. Kuna, B. Samolinski, J. M. Anto, V. Cardona, J. Mullol, H. Pinnock, D. Ryan, A. Sheikh, S. Walker, S. Williams, S. Becker, L. Klimek, O. Pfaar, K. C. Bergmann, R. Mösges, T. Zuberbier, R. E. Roller-Wirnsberger, P. V. Tomazic, T. Haahtela, J. Salimäki, S. Toppila-Salmi, E. Valovirta, T. Vasankari, B. Gemicioğlu, A. Yorgancioglu, N. G. Papadopoulos, E. P. Prokopakis, I. G. Tsiligianni, S. Bosnic-Anticevich, R. O'Hehir, J. C. Ivancevich, H. Neffen, M. E. Zernotti, I. Kull, E. Melén, M. Wickman, C. Bachert, P. W. Hellings, G. Brusselle, S. Palkonen, C. Bindslev-Jensen, E. Eller, S. Waserman, L. P. Boulet, J. Bouchard, D. K. Chu, H. J. Schünemann, M. Sova, G. De Vries, M. van Eerd, I. Agache, I. J. Ansotegui, M. Bewick, T. Casale, M. Dykewick, M. Ebisawa, R. Murray, R. Naclerio, Y. Okamoto, D. V. Wallace and The MASK study group

Clinical and Translational Allergy 2019 9:16 (11 March 2019)
Research
Two grass pollen tablets commercially available for allergy immunotherapy display different IgE epitope repertoires

Thierry Batard, Amparo Sanjuan, Laure Denis, Hélène Nguyen, Armelle Montagut, Joaquín Sastre, Sabina Rak and Jean F. Cuiné

Clinical and Translational Allergy 2019 9:13 (27 February 2019)
Research
A specific synbiotic-containing amino acid-based formula in dietary management of cow's milk allergy: a randomized controlled trial
Adam T. Fox, Harm Wopereis, Marleen T. J. Van Ampting, Manon M. Oude Nijhuis, Assad M. Butt, Diego G. Peroni, Yvan Vandenplas, David C. A. Candy, Neil Shah, Christina E. West, Johan Garssen, Lucien F. Harthoorn, Jan Knol, Louise J. Michaelis and ASSIGN study group
Clinical and Translational Allergy 2018 9:5 (15 January 2019)
Research
Dual exposure to smoking and household air pollution is associated with an increased risk of severe asthma in adults in Brazil
Andréia Guedes Oliva Fernandes, Carolina de Souza-Machado, Gabriela Pimentel Pinheiro, Sergio Telles de Oliva, Raquel Cristina Lins Mota, Valmar Bião de Lima, Constança Sampaio Cruz, José Miguel Chatkin and Álvaro A. Cruz
Clinical and Translational Allergy 2018 8:48 (10 December 2018)
Research
Alpha 1 antitrypsin distribution in an allergic asthmatic population sensitized to house dust mites
I. Suárez-Lorenzo, F. Rodríguez de Castro, D. Cruz-Niesvaara, E. Herrera-Ramos, C. Rodríguez-Gallego and T. Carrillo-Diaz
Clinical and Translational Allergy 2018 8:44 (2 November 2018)
Review
MASK 2017: ARIA digitally-enabled, integrated, person-centred care for rhinitis and asthma multimorbidity using real-world-evidence
J. Bousquet, S. Arnavielhe, A. Bedbrook, M. Bewick, D. Laune, E. Mathieu-Dupas, R. Murray, G. L. Onorato, J. L. Pépin, R. Picard, F. Portejoie, E. Costa, J. Fonseca, O. Lourenço, M. Morais-Almeida, A. Todo-Bom, A. A. Cruz, J. da Silva, F. S. Serpa, M. Illario, E. Menditto, L. Cecchi, R. Monti, L. Napoli, M. T. Ventura, G. De Feo, D. Larenas-Linnemann, M. Fuentes Perez, Y. R. Huerta Villabolos, D. Rivero-Yeverino, E. Rodriguez-Zagal, F. Amat, I. Annesi-Maesano, I. Bosse, P. Demoly, P. Devillier, J. F. Fontaine, J. Just, T. P. Kuna, B. Samolinski, A. Valiulis, R. Emuzyte, V. Kvedariene, D. Ryan, A. Sheikh, P. Schmidt-Grendelmeier, L. Klimek, O. Pfaar, K. C. Bergmann, R. Mösges, T. Zuberbier, R. E. Roller-Wirnsberger, P. Tomazic, W. J. Fokkens, N. H. Chavannes, S. Reitsma, J. M. Anto, V. Cardona, T. Dedeu, J. Mullol, T. Haahtela, J. Salimäki, S. Toppila-Salmi, E. Valovirta, B. Gemicioğlu, A. Yorgancioglu, N. Papadopoulos, E. P. Prokopakis, S. Bosnic-Anticevich, R. O'Hehir, J. C. Ivancevich, H. Neffen, E. Zernotti, I. Kull, E. Melen, M. Wickman, C. Bachert, P. Hellings, S. Palkonen, C. Bindslev-Jensen, E. Eller, S. Waserman, M. Sova, G. De Vries, M. van Eerd, I. Agache, T. Casale, M. Dykewickz, R. N. Naclerio, Y. Okamoto, D. V. Wallace and MASK study group
Clinical and Translational Allergy 2018 8:45 (25 October 2018)
Review
POLLAR: Impact of air POLLution on Asthma and Rhinitis; a European Institute of Innovation and Technology Health (EIT Health) project
Jean Bousquet, Josep M. Anto, Isabella Annesi-Maesano, Toni Dedeu, Eve Dupas, Jean-Louis Pépin, Landry Stephane Zeng Eyindanga, Sylvie Arnavielhe, Julia Ayache, Xavier Basagana, Samuel Benveniste, Nuria Calves Venturos, Hing Kin Chan, Mehdi Cheraitia, Yves Dauvilliers, Judith Garcia-Aymerich, Ingrid Jullian-Desayes, Chitra Dinesh, Daniel Laune, Jade Lu Dac, Ismael Nujurally, Giovanni Pau, Robert Picard, Xavier Rodo, Renaud Tamisier, Michael Bewick, Nils E. Billo, Wienczyslawa Czarlewski, Joao Fonseca, Ludger Klimek, Oliver Pfaar and Jean-Marc Bourez
Clinical and Translational Allergy 2018 8:36 (17 September 2018)
Research
Accessing severity of anaphylaxis: a data-driven comparison of 23 instruments
Esben Eller, Antonella Muraro, Ronald Dahl, Charlotte Gotthard Mortz and Carsten Bindslev-Jensen
Clinical and Translational Allergy 2018 8:29 (1 August 2018)
Research
Severity of allergic rhinitis impacts sleep and anxiety: results from a large Spanish cohort
R. Muñoz-Cano, P. Ribó, G. Araujo, E. Giralt, J. Sanchez-Lopez and A. Valero
Clinical and Translational Allergy 2018 8:23 (9 July 2018)
Review
Rapid onset of action and reduced nasal hyperreactivity: new targets in allergic rhinitis management
C. Bachert, J. Bousquet and P. Hellings
Clinical and Translational Allergy 2018 8:25 (25 June 2018)
Research
Having concomitant asthma phenotypes is common and independently relates to poor lung function in NHANES 2007–2012
Rita Amaral, João A. Fonseca, Tiago Jacinto, Ana M. Pereira, Andrei Malinovschi, Christer Janson and Kjell Alving
Clinical and Translational Allergy 2018 8:13 (4 May 2018)
Research
The Allergic Rhinitis Clinical Investigator Collaborative (AR-CIC): verification of nasal allergen challenge procedures in a study utilizing an investigational immunotherapy for cat allergy
Helen Neighbour, Mena Soliman, Lisa M. Steacy, Pascal Hickey, Beth Forbes, Mark Larché and Anne K. Ellis
Clinical and Translational Allergy, 2018 8:15 (12 April 2018)
Research
The kinase LRRK2 is differently expressed in chronic rhinosinusitis with and without nasal polyps
Yue Ma, Chunquan Zheng and Le Shi
Clinical and Translational Allergy, 2018 8:8 (12 March 2018)
Research
Interleukin-25 and eosinophils progenitor cell mobilization in allergic asthma
Wei Tang, Steven G. Smith, Wei Du, Akash Gugilla, Juan Du, John Paul Oliveria, Karen Howie, Brittany M. Salter, Gail M. Gauvreau, Paul M. O'Byrne and Roma Sehmi
Clinical and Translational Allergy, 2018 8:5 (13 February 2018)
Research
Development and validation of a standardized double-blind, placebo-controlled food challenge matrix for raw hazelnuts
Marjolein Vandekerckhove, Bart Van Droogenbroeck, Marc De Loose, Katleen Coudijzer, Marc Coppens, Philippe Gevaert and Hilde Lapeere
Clinical and Translational Allergy, 2018 8:3 (26 January 2018)
Review
How to manage anaphylaxis in primary care
Alberto Alvarez-Perea, Luciana Kase Tanno and María L. Baeza
Clinical and Translational Allergy, 2017 7:45 (11 December 2017)
Review
Comparison of atopy patch testing to skin prick testing for diagnosing mite-induced atopic dermatitis: a systematic review and meta-analysis
Y. Liu , J.Peng , Y. Zhou and Y. Cui
Clinical and Translational Allergy 2017 7:41 (29 November 2017)
Review
CHRODIS criteria applied to the MASK (MACVIA-ARIA Sentinel NetworK) Good Practice in allergic rhinitis: a SUNFRAIL report
J. Bousquet, G. L. Onorato, C. Bachert, M. Barbolini, A. Bedbrook, L. Bjermer, J. Correia de Sousa, N. H. Chavannes, A. A. Cruz, E. De Manuel Keenoy, P. Devillier, J. Fonseca, S. Hun, T. Kostka, P. W. Hellings, M. Illario, J. C. Ivancevich, D. Larenas-Linnemann, J. Millot-Keurinck, D. Ryan, B. Samolinski, A. Sheikh, A. Yorgancioglu, I. Agache, S. Arnavielhe, M. Bewick, I. Annesi-Maesano, J. M. Anto, K. C. Bergmann, C. Bindslev-Jensen, S. Bosnic-Anticevich, J. Bouchard, D. P. Caimmi, P. Camargos, G. W. Canonica, V. Cardona, A. M. Carriazo, C. Cingi, E. Colgan, A. Custovic, R. Dahl, P. Demoly, G. De Vries, W. J. Fokkens, J. F. Fontaine, B. Gemicioğlu, N. Guldemond, Z. Gutter, T. Haahtela, B. Hellqvist-Dahl, E. Jares, G. Joos, J. Just, N. Khaltaev, T. Keil, L. Klimek, M. L. Kowalski, I. Kull, P. Kuna, V. Kvedariene, D. Laune, R. Louis, A. Magnan, J. Malva, E. Mathieu-Dupas, E. Melén, E. Menditto, M. Morais-Almeida, R. Mösges, J. Mullol, R. Murray, H. Neffen, R. O'Hehir, S. Palkonen, N. G. Papadopoulos, G. Passalacqua, J. L. Pépin, F. Portejoie, D. Price, B. Pugin, F. Raciborski, F. E. R. Simons, M. Sova, O. Spranger, C. Stellato, A. Todo Bom, P. V. Tomazic, M. Triggiani, A. Valero, E. Valovirta, O. VandenPlas, A. Valiulis, M. van Eerd, M. T. Ventura, M. Wickman, I. Young, T. Zuberbier, A. Zurkuhlen and A. Senn
Clinical and Translational Allergy 2017 7:37 (23 October 2017)
Research
The efficacy of oral and subcutaneous antigen-specific immunotherapy in murine cow's milk- and peanut allergy models
Marlotte M. Vonk†, Laura Wagenaar†, Raymond H. H. Pieters, Leon M. J. Knippels, Linette E. M. Willemsen, Joost J. Smit, Betty C. A. M. van Esch and Johan Garssen
†Contributed equally
Clinical and Translational Allergy 2017 7:35 (29 September 2017)
Review
Better recognition, diagnosis and management of non-IgE-mediated cow's milk allergy in infancy: iMAP—an international interpretation of the MAP (Milk Allergy in Primary Care) guideline
Carina Venter, Trevor Brown, Rosan Meyer, Joanne Walsh, Neil Shah, Anna Nowak-Węgrzyn, Tong-Xin Chen, David M. Fleischer, Ralf G. Heine, Michael Levin, Mario C. Vieira and Adam T. Fox
Clinical and Translational Allergy 2017 7:26 (23 August 2017)
Review
Endotype-driven treatment in chronic upper airway diseases
Glynnis De Greve, Peter W. Hellings, Wytske J. Fokkens, Benoit Pugin, Brecht Steelant and Sven F. Seys
Clinical and Translational Allergy 2017 7:22 (12 July 2017)
Review
Multi-morbidities of allergic rhinitis in adults: European Academy of Allergy and Clinical Immunology Task Force Report
Cemal Cingi, Philippe Gevaert, Ralph Mösges, Carmen Rondon, Valerie Hox, Michael Rudenko, Nuray Bayar Muluk, Glenis Scadding, Felicia Manole, Cloe Hupin, Wytske J. Fokkens, Cezmi Akdis, Claus Bachert, Pascal Demoly, Joaquim Mullol, Antonella Muraro, Nikolaos G. Papadopoulos, Ruby Pawankar, Philippe Rombaux, Elina Toskala, Livije Kalogjera, Emmanuel P. Prokopakis, Peter Hellings and Jean Bousquet
Clinical and Translational Allergy 2017 7:17 (1 June 2017)
Review
Quality indicators for the acute and long-term management of anaphylaxis: a systematic review
Sangeeta Dhami, Aadam Sheikh, Antonella Muraro, Graham Roberts, Susanne Halken, Monserat Fernandez Rivas, Margitta Worm and Aziz Sheikh
Clinical and Translational Allergy 2017 7:15 (24 May 2017)
Research
Early childhood risk factors for rhinoconjunctivitis in adolescence: a prospective birth cohort study
Elisabeth Soegaard Christiansen,Henrik Fomsgaard Kjaer, Esben Eller, Carsten Bindslev-Jensen, Arne Høst, Charlotte Gotthard Mortz and Susanne Halken
Clinical and Translational Allergy 2017 7:9 (3 April 2017)
Research
Galectin-3: an early predictive biomarker of modulation of airway remodeling in patients with severe asthma treated with omalizumab for 36 months
Anna Maria Riccio, Pierluigi Mauri, Laura De Ferrari, Rossana Rossi, Dario Di Silvestre, Louise Benazzi, Alessandra Chiappori, Roberto Walter Dal Negro, Claudio Micheletto and Giorgio Walter Canonica
Clinical and Translational Allergy 2017, 7:6 (9 March 2017)
Research
Effectiveness and safety of antihistamines up to fourfold or higher in treatment of chronic spontaneous urticaria
Mignon T. van den Elzen, Harmieke van Os-Medendorp, Imke van den Brink, Karin van den Hurk, Ouliana I. Kouznetsova, Alexander S. H. J. Lokin, Anna-Marijke Laheij-de Boer, Heike Röckmann, Carla A. F. M. Bruijnzeel-Koomen and André C. Knulst
Clinical and Translational Allergy 2017, 7:4 (14 February 2017)
Research
Is fruit and vegetable intake associated with asthma or chronic rhino-sinusitis in European adults? Results from the Global Allergy and Asthma Network of Excellence (GA2LEN) Survey
Vanessa Garcia-Larsen, Rhonda Arthur, James F. Potts, Peter H. Howarth, Matti Ahlström, Tari Haahtela, Carlos Loureiro, Ana Todo Bom, Grzegorz Brożek, Joanna Makowska, Marek L. Kowalski, Trine Thilsing, Thomas Keil, Paolo M. Matricardi, Kjell Torén, Thibaut van Zele…
Clinical and Translational Allergy 2017, 7:3 (27 January 2017)



Review
ARIA 2016: Care pathways implementing emerging technologies for predictive medicine in rhinitis and asthma across the life cycle
J. Bousquet, P. W. Hellings, I. Agache, A. Bedbrook, C. Bachert, K. C. Bergmann, M. Bewick, C. Bindslev-Jensen, S. Bosnic-Anticevitch, C. Bucca, D. P. Caimmi, P. A. M. Camargos, G. W. Canonica, T. Casale, N. H. Chavannes, A. A. Cruz…
Clinical and Translational Allergy 2016 6:47 (30 December 2016)
Research
Standardization of double blind placebo controlled food challenge with soy within a multicentre trial
R. Treudler, A. Franke, A. Schmiedeknecht, B. K. Ballmer-Weber, M. Worm, T. Werfel, U. Jappe, T. Biedermann, J. Schmitt, R. Brehler, A. Kleinheinz, J. Kleine-Tebbe, H. Brüning, F. Ruëff, J. Ring, J. Saloga, K. Schäkel, T. Holzhauser, St. Vieths and J. C. Simon
Clinical and Translational Allergy 2016 6:39 (7 November 2016)
Research
Impaired health-related quality of life in adolescents with allergy to staple foods
Jennifer Lisa Penner Protudjer, Sven-Arne Jansson, Roelinde Middelveld, Eva Östblom, Sven-Erik Dahlén, Marianne Heibert Arnlind, Ulf Bengtsson, Ingrid Kallström-Bengtsson, Birgitta Marklund, Georgios Rentzos, Ann-Charlotte Sundqvist, Johanna Åkerström and Staffan Ahlstedt
Clinical and Translational Allergy 2016 6:37 (30 September 2016)
Research
Improvement of sleep in patients with chronic idiopathic/spontaneous urticaria treated with omalizumab: results of three randomized, double-blind, placebo-controlled studies
Ana M. Gimenéz-Arnau, Sheldon Spector, Evgeniya Antonova, Benjamin Trzaskoma, Karin Rosén, Theodore A. Omachi, Donald Stull, Maria-Magdalena Balp and Thomas Murphy
Clinical and Translational Allergy 2016 6:32 (18 August 2016)
Research
Optimizing diagnostic tests for persulphate-induced respiratory diseases
M. H. Foss-Skiftesvik, L. Winther, H. F. Mosbech, P. S. Skov, M. S. Opstrup, H. Søsted, C. Zachariae, J. D. Johansen and C. R. Johnsen
Clinical and Translational Allergy 2016 6:26 (21 July 2016)
Research
Influence of profilin on sensitisation profiles determined by cutaneous tests and IgE to major allergens in polysensitised patients
Nieves Segura, Teresa Abos, José A. Compaired, Esther Compés, Isabel Guallar, Manuel Morales, Susana Monzón, José Mozota, Pilar Muñoz, Jesús Pola, Macarena Quintana, Beatriz Rojas, Sara San Juan, Felicitas Villa, Cristina Zapata, Lucía Jimeno, Fernando de la Torre
Clinical and Translational Allergy 2016 6:23 (29 June 2016)
Review
Milk: a postnatal imprinting system stabilizing FoxP3 expression and regulatory T cell differentiation
Bodo C. Melnik, Swen Malte John, Pedro Carrera-Bastos and Gerd Schmitz
Clinical and Translational Allergy 2016, 6:18 (12 May 2016)
Research
The expression of CD123 can decrease with basophil activation: implications for the gating strategy of the basophil activation test
Alexandra F. Santos, Natalia Bécares, Alick Stephens, Victor Turcanu, Gideon Lack
Clinical and Translational Allergy 2016, 6:11 (1 April 2016)
Research
Measurement and interpretation of skin prick test results
J. P. M. van der Valk, R. Gerth van Wijk, E. Hoorn, L. Groenendijk, I. M. Groenendijk and N. W. de Jong
Clinical and Translational Allergy 2016, 6:8 (23 February 2016)
Research
Food allergy in mice is modulated through the thymic stromal lymphopoietin pathway
Christophe Frossard, Simone Zimmerli, José Rincon Garriz, Philippe Eigenmann
Clinical and Translational Allergy 2016, 6:2 (19 January 2016)
Research
Expression profiling and functional analysis of Toll-like receptors in primary healthy human nasal epithelial cells shows no correlation and a refractory LPS response
DJ. van Tongeren, K. Röschmann, S. Reinartz, S. Luiten, W. Fokkens, E. de Jong, C. van Drunen
Clinical and Translational Allergy 2015, 5:42 (14 December 2015)
Review
Choosing the optimal dose in sublingual immunotherapy: Rationale for the 300 index of reactivity dose
Pascal Demoly, Gianni Passalacqua, Moises Calderon, Tarik Yalaoui
Clinical and Translational Allergy 2015, 5:44 (23 December 2015)
Research
The hidden burden of adult allergic rhinitis: UK healthcare resource utilisation survey
David Price, Glenis Scadding, Dermot Ryan, Claus Bachert, G. Canonica, Joaquim Mullol, Ludger Klimek, Richard Pitman, Sarah Acaster, Ruth Murray, Jean Bousquet
Clinical and Translational Allergy 2015, 5:39 (18 November 2015)
Research
A common language to assess allergic rhinitis control: results from a survey conducted during EAACI 2013 Congress
Peter Hellings, Antonella Muraro, Wytske Fokkens, Joaquim Mullol, Claus Bachert, G. Canonica, David Price, Nikos Papadopoulos, Glenis Scadding, Gerd Rasp, Pascal Demoly, Ruth Murray, Jean Bousquet
Clinical and Translational Allergy 2015, 5:36 (27 October 2015)
Review
Pathogenesis and diagnosis of delayed-type drug hypersensitivity reactions, from bedside to bench and back
Rik Schrijvers, Liesbeth Gilissen, Anca Chiriac, Pascal Demoly
Clinical and Translational Allergy 2015, 5:31 (3 September 2015)
Review
Immunological events in chronic spontaneous urticaria
Marta Ferrer
Clinical and Translational Allergy 2015, 5:30 (25 August 2015)
Research
Further studies on the biological activity of hazelnut allergens
F. Blanc, H. Bernard, S. Ah-Leung, L. Przybylski-Nicaise, P. Skov, A. Purohit, F. de Blay, B. Ballmer-Weber, P. Fritsche, M. Rivas, I. Reig, A. Sinaniotis, E. Vassilopoulou, K. Hoffmann-Sommergruber, S. Vieths, N. Rigby, C. Mills, K. Adel-Patient
Clinical and Translational Allergy 2015, 5:26 (17 July 2015)
Research
Use of a basophil activation test as a complementary diagnostic tool in the diagnosis of severe peanut allergy in adults
Georgios Rentzos, Vanja Lundberg, Christina Lundqvist, Rui Rodrigues, Jenny van Odijk, Anna-Carin Lundell, Teet Pullerits, Esbjörn Telemo
Clinical and Translational Allergy 2015, 5:22 (11 June 2015)
Research
Prolonged efficacy of the 300IR 5-grass pollen tablet up to 2 years after treatment cessation, as measured by a recommended daily combined score
Alain Didier, Hans-Jørgen Malling, Margitta Worm, Friedrich Horak, Gordon L Sussman
Clinical and Translational Allergy 2015, 5:12 (22 May 2015)
Review
Pollen Allergies in Humans and their Dogs, Cats and Horses: Differences and Similarities
Erika Jensen-Jarolim, Lukas Einhorn, Ina Herrmann, Johann G Thalhammer, Lucia Panakova
Clinical and Translational Allergy 2015, 5:15 (7 April 2015)
Research
Heterogeneous responses and cross reactivity between the major peanut allergens Ara h 1, 2,3 and 6 in a mouse model for peanut allergy
Joost J Smit, Maarten T Pennings, Karina Willemsen, Manon van Roest, Els van Hoffen, Raymond H Pieters
Clinical and Translational Allergy 2015, 5:13 (23 March 2015)
Research
Evaluation of the applicability of the Immuno-solid-phase allergen chip (ISAC) assay in atopic patients in Singapore
Amelia Santosa, Anand Andiappan, Olaf Rotzschke, Hung Wong, Amanda Chang, Mei Bigliardi-Qi, De-Yun Wang, Paul Bigliardi
Clinical and Translational Allergy 2015, 5:9 (27 February 2015)
Review
The need for patient-focused therapy for children and teenagers with allergic rhinitis: a case-based review of current European practice
Alexandra F Santos, Luis Miguel Borrego, Giuseppina Rotiroti, Glenis Scadding and Graham Roberts
Clinical and Translational Allergy 2015, 5:2 (24 January 2015)
Research
Patterns of suspected wheat-related allergy: a retrospective single-centre case note review in 156 patients
Morten J Christensen, Esben Eller, Charlotte G Mortz and Carsten Bindslev-Jensen
Clinical and Translational Allergy 2014, 4:39 (21 November 2014)
Research
Positive serum specific IgE has a short half-life in patients with penicillin allergy and reversal does not always indicate tolerance
Janni Hjortlund, Charlotte Gotthard Mortz, Tore Bjerregaard Stage, Per Stahl Skov, Ronald Dahl, Carsten Bindslev-Jensen
Clinical and Translational Allergy 2014, 4:34 (29 October 2014)
Review
Component resolved diagnosis: when should it be used?
Olga Luengo, Victòria Cardona
Clinical and Translational Allergy 2014, 4:28 (8 September 2014)
Research
Markers of gut mucosal inflammation and cow's milk specific immunoglobulins in non-IgE cow's milk allergy
Laura Merras-Salmio, Kaija-Leena Kolho, Anna S Pelkonen, Mikael Kuitunen, Mika J Mäkelä, Erkki Savilahti
Clinical and Translational Allergy 2014, 4:8 (5 March 2014)
Position article and guidelines
Fungal allergy in asthma–state of the art and research needs
David W Denning, Catherine Pashley, Domink Hartl, Andrew Wardlaw, Cendrine Godet, Stefano Del Giacco, Laurence Delhaes, Svetlana Sergejeva
Clinical and Translational Allergy 2014, 4:14 (15 April 2014)
Review
Allergic sensitization: screening methods
Gregory S Ladics, Jeremy Fry, Richard Goodman, Corinne Herouet-Guicheney, Karin Hoffmann-Sommergruber, Charlotte B Madsen, André Penninks, Anna Pomés, Erwin L Roggen, Joost Smit, Jean-Michel Wal
Clinical and Translational Allergy 2014, 4:13 (15 April 2014)
Research
Characteristics and management of sublingual allergen immunotherapy in children with allergic rhinitis and asthma induced by house dust mite allergens
Florence Trebuchon, Michèle Lhéritier-Barrand, Marie David, Pascal Demoly
Clinical and Translational Allergy 2014, 4:15 (29 April 2014)
Research
An EAACI "European Survey on Adverse Systemic Reactions in Allergen Immunotherapy (EASSI)": the methodology
Moises A Calderón, Pablo Rodríguez del Río, Carmen Vidal, Jocelyne Just, Oliver Pfaar, Allan Linneberg, Pascal Demoly
Clinical and Translational Allergy 2014, 4:22 (21 July 2014)